Android Studio provides the fastest tools for building apps on every type of Android device.
Visual layout editor
Create complex layouts with ConstraintLayout by adding constraints from each view to other views and guidelines. Then preview your layout on any screen size by selecting one of various device configurations or by simply resizing the preview window.
APK analyzer
Find opportunities to reduce your Android app size by inspecting the contents of your app APK file, even if it wasn't built with Android Studio. Inspect the manifest file, resources, and DEX files. Compare two APKs to see how your app size changed between app versions.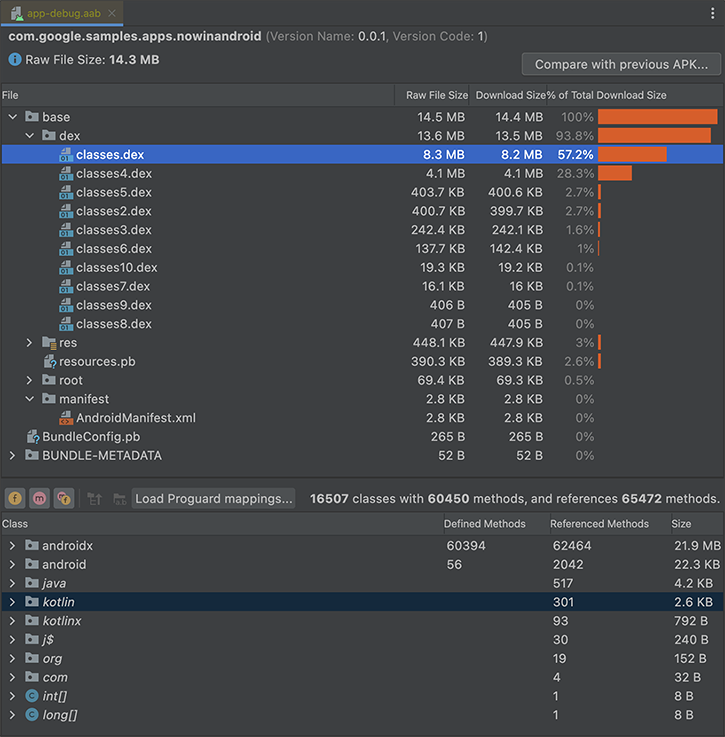 Fast emulator
Install and run your apps faster than with a physical device and simulate different configurations and features, including Google ARCore, the built-in platform for augmented reality.

Intelligent code editor
Write better code, work faster, and be more productive with an intelligent code editor that provides code completion for Kotlin, Java, and C/C++ languages.
Flexible build system
Powered by Gradle, Android Studio's build system allows you to customize your build to generate multiple build variants for different devices from a single project.
Realtime profilers
The built-in profiling tools provide realtime statistics for your app's CPU, memory, and network activity. Identify performance bottlenecks by recording method traces, inspecting the heap and allocations, and see incoming and outgoing network payloads.
Platform
Android Studio package
Size
SHA-256 checksum
Windows
(64-bit)

Recommended
758 MB
e2695b73300ec398325cc5f242c6ecfd6e84db190b7d48e6e78a8b0115d49b0d

No .exe installer
854 MB
e8903b443dd73ec120c5a967b2c7d9db82d8ffb4735a39d3b979d22c61e882ad
Windows
(32-bit)

No .exe installer
854 MB
c238f54f795db03f9d4a4077464bd9303113504327d5878b27c9e965676c6473
Mac
848 MB
4665cb18c838a3695a417cebc7751cbe658a297a9d6c01cbd9e9a1979b8b167e
Linux
853 MB
13f290279790df570bb6592f72a979a495f7591960a378abea7876ece7252ec1
See the Android Studio release notes.
If you do not need Android Studio, you can download the basic Android command line tools below. You can use the included sdkmanager to download other SDK packages.
These tools are included in Android Studio.
| Platform | SDK tools package | Size | SHA-256 checksum |
| --- | --- | --- | --- |
| Windows | | 132 MB | 7f6037d3a7d6789b4fdc06ee7af041e071e9860c51f66f7a4eb5913df9871fd2 |
| Mac | | 82 MB | 4a81754a760fce88cba74d69c364b05b31c53d57b26f9f82355c61d5fe4b9df9 |
| Linux | | 131 MB | 444e22ce8ca0f67353bda4b85175ed3731cae3ffa695ca18119cbacef1c1bea0 |
See the SDK tools release notes.
Windows
Microsoft® Windows® 7/8/10 (32- or 64-bit)
3 GB RAM minimum, 8 GB RAM recommended; plus 1 GB for the Android Emulator
2 GB of available disk space minimum,
4 GB Recommended (500 MB for IDE + 1.5 GB for Android SDK and emulator system image)
1280 x 800 minimum screen resolution
Mac
Mac® OS X® 10.10 (Yosemite) or higher, up to 10.13 (macOS High Sierra)
3 GB RAM minimum, 8 GB RAM recommended; plus 1 GB for the Android Emulator
2 GB of available disk space minimum,
4 GB Recommended (500 MB for IDE + 1.5 GB for Android SDK and emulator system image)
1280 x 800 minimum screen resolution
Linux
GNOME or KDE desktop

Tested on Ubuntu® 14.04 LTS, Trusty Tahr (64-bit distribution capable of running 32-bit applications)

64-bit distribution capable of running 32-bit applications
GNU C Library (glibc) 2.19 or later
3 GB RAM minimum, 8 GB RAM recommended; plus 1 GB for the Android Emulator
2 GB of available disk space minimum,
4 GB Recommended (500 MB for IDE + 1.5 GB for Android SDK and emulator system image)
1280 x 800 minimum screen resolution